Join our totally free totally virtual camp.
Campers are having the time of their lives at our Camp Reimagined!
Despite COVID-19  and the challenges posed by the virus we remain committed to a world focused on abilities. Your health is our priority.  We are excited that you are here for "Camp Reimagined." We are grateful to the Lucas County Board of Developmental Disabilities for providing us with a grant opportunity that allows us to offer camp as an online experience with various packages delivered right to your door. We hope to inspire and engage you this summer. It is our way to stay connected until we can see you at camp again.
We look forward to seeing the pictures and videos you share with us this summer until we can meet again!
Who this program helps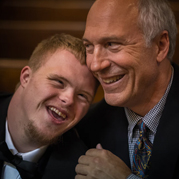 Caregivers
We have developed a virtual solution to help support the social and emotional needs of children and adults in your care. Join us as we engage in fun, free activities for the whole family.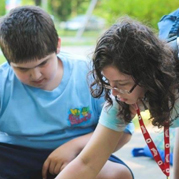 Children and Adults With Disabilities
Campers of all ages have the opportunity to paint, make pizza, complete craft projects and puzzles as well as participate in cupcake wars. The activities are all free and accessible.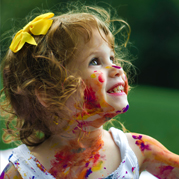 Children Without Disabilities
Our camping program is available to children of all ages and abilities. Join us for one week or each session for the entire summer as we create, paint, and have fun!
Join the Courageous Community Services staff members for a day, a week, or a month this summer as we make homemade pizzas, complete art projects, play bingo, learn about beekeeping, and many other fun activities. We look forward to seeing you on Zoom and as we deliver projects right to your door.