I wouldn't have nothin' if I didn't have you! – Summer Camp 2023
Join us for our 2023 summer camp season!
Our goal is to inspire and engage you this summer.  Courageous Acres provides a structured environment where all campers have the opportunity to make friends and feel good about themselves. Courageous Community Services' mission is to provide meaningful, inclusive opportunities for individuals with disabilities and their families through advocacy, education, and engaging recreational experiences.
Courageous Acres welcomes all individuals, including those with developmental or physical disabilities or health conditions ranging in age from 5  to adulthood.
An individual must be medically stable and must not be a safety risk to self or others (behaviorally, sexually, or physically) to attend Courageous Acres. Camp reserves the right to determine an individual's eligibility to attend camp or camper events.
Courageous Community Services reserves the right to dismiss an individual at any time during their attendance at Camp based on illness, injury, or safety risk to themselves or others.
Who this program helps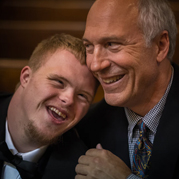 Caregivers
We recommend that parents and caregivers step away from caregiving responsibilities and take a break. While your loved one attends camp, we want you to so something just for you!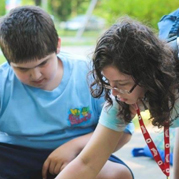 Children and Adults With Disabilities
Campers of all ages have the opportunity to paint, garden, complete craft projects, swim, and participate in fun recreational activites.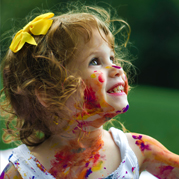 Children Without Disabilities
Our camping program is available to ALL children ages 5 and older. Join us this summer as we create, paint, garden, swim, and have fun!
Wild About Camp 2021 Highlights
The wonderful thing about camp is that it's more than just a place to spend summer days. It's an experience that becomes a part of who we are.  Last summer over 150 campers enjoyed arts and crafts, recreational activities, yoga, campfires, and karaoke among other things. It was the second hottest summer on record for the greater Toledo area. The one thing the campers missed most was the pool. The pool is so much more than a place to swim. It is an important way that community is built for the kids and adults who join us at camp each year. The things they learn while playing in the water – sharing, joy, helping one another –  add to the many memories created at camp each season. Our pool is integral to community health and inclusion. Swimming enables all individuals, including those with limited mobility and medical conditions, the ability to maintain an active and healthy lifestyle. Please help us restore and revitalize the Courageous Acres pool this year.