Join us for our 2021 summer camp season!
Despite COVID-19  and the challenges posed by the virus, we remain committed to a world focused on abilities. Your health is our priority.  We are excited that you are here for our "Wild About Camp" program. We hope to inspire and engage you this summer.
While we are confident in our ability to run camp during a pandemic, it is being done with many changes to camp protocols and the overall program. Because of those changes, camp may not be appropriate for some individual campers and staff during a pandemic. Each individual and family must decide if camp, modified as detailed in our camp registration portal, is the right fit. 
If COVID-19 causes us to cancel the season, we will provide a full refund or apply funds to a future program as you wish.
Camp Courageous welcomes individuals with developmental or physical disabilities or health conditions ranging in age from 3 to adulthood.
An individual must be medically stable and must not be a safety risk to self or others (behaviorally, sexually, or physically) in order to attend Courageous Acres. Camp reserves the right to determine an individual's eligibility to attend camp or camper events.
Courageous Community Services reserves the right to dismiss an individual at any time during their attendance at Camp based on illness, injury, or safety risk to themselves or others.
Who this program helps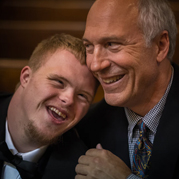 Caregivers
We recommend that parents and caregivers step away from caregiving responsibilities and take a break. While your loved one attends camp, we want you to so something just for you!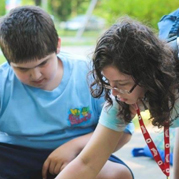 Children and Adults With Disabilities
Campers of all ages have the opportunity to paint, garden, complete craft projects, swim, and participate in fun recreational activites.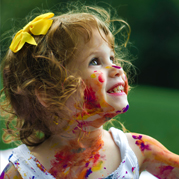 Children Without Disabilities
Our camping program is available to ALL children ages 5 and older. Join us this summer as we create, paint, garden, swim, and have fun!
Join the Courageous Community Services staff members for a day, a week, or a month this summer as we make homemade pizzas, complete art projects, play bingo, learn about beekeeping, and many other fun activities. We look forward to seeing you on Zoom and as we deliver projects right to your door.