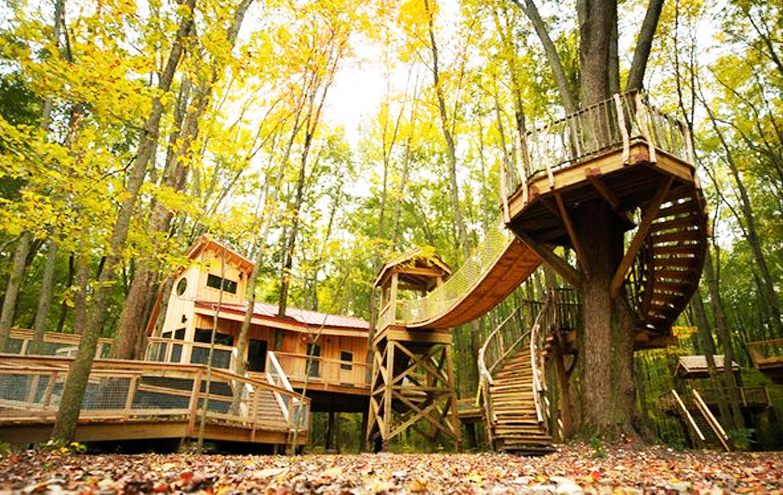 Enter our Sweepstakes and Win a weekend stay at the treehouse!
Courageous Community Services is offering a chance to win a weekend getaway to stay at the Cannaley Treehouse Village on June 24th and 25th! The Cannaley Treehouse Village at Oak Openings Preserve
Metropark

in Swanton, Ohio is a one-of-a-kind experience – the largest treehouse village in a public park anywhere in the country. Due to the natural beauty and relaxing essence, this unique stay is a highly coveted experience, and the public reservation list is booked until 2022. Fortunately, our organization is lucky to be able to offer our community members this exclusive chance to enjoy the Cannaley Treehouse Village before the general public.
The Space:
The Cannaley Treehouse Village is located within the Oak Openings Metropark in Toledo, Ohio. The Oak Openings region covers over 5,000 acres of beautiful, diverse habitats that include oak savanna, wetlands, and even vegetated sand dunes.
The prized treehouse is fully accessible and has a maximum occupancy limit of 4 people. Essential items, on-site restrooms, and a great outdoor fire pit (wood provided) are also included in the stay. Optional premier activities to experience during the visit could include facilitated tree climbing, mountain biking, kayaking, fishing, hiking, birding, photography, and much more!
Additional Information:
To view the official rules and procedures, please refer to the "Sweepstakes Details."
The winner will be randomly chosen on May 27th at 12:00 p.m.